In order to mas­ter the rel­at­ively high axi­al forces required in lar­ger screw con­nec­tions, it makes sense to use screw ten­sion­ing devices. Dun­ze GmbH has been man­u­fac­tur­ing screw ten­sion­ing devices very suc­cess­fully for over 40 years.
Here, the screw is stretched hydraul­ic­ally with a force that cor­res­ponds to the sub­sequent load plus a safety factor. There is no altern­at­ive meth­od to pro­duce screw con­nec­tions with such pre­ci­sion and with the smal­lest pos­sible loads for the screw con­nec­tion. Our bolt ten­sion­ers are also a very inex­pens­ive way to handle lar­ger bolted joints.
There is no tight­en­ing fric­tion in the thread, which is approx. 80% to 90% with manu­al tight­en­ing, and the set­ting forces are also sig­ni­fic­antly lower. A "seizure" of the thread has nev­er been detec­ted so far. Our screw ten­sion­ing devices are made of high-strength alu­min­um and are there­fore very light.
The pres­sure build-up takes place in a ring cyl­in­der. We usu­ally design the required hydraul­ic pres­sures for a pres­sure range of 350 to 600 bar so that inex­pens­ive pumps can be used and the risk of acci­dents is minimized.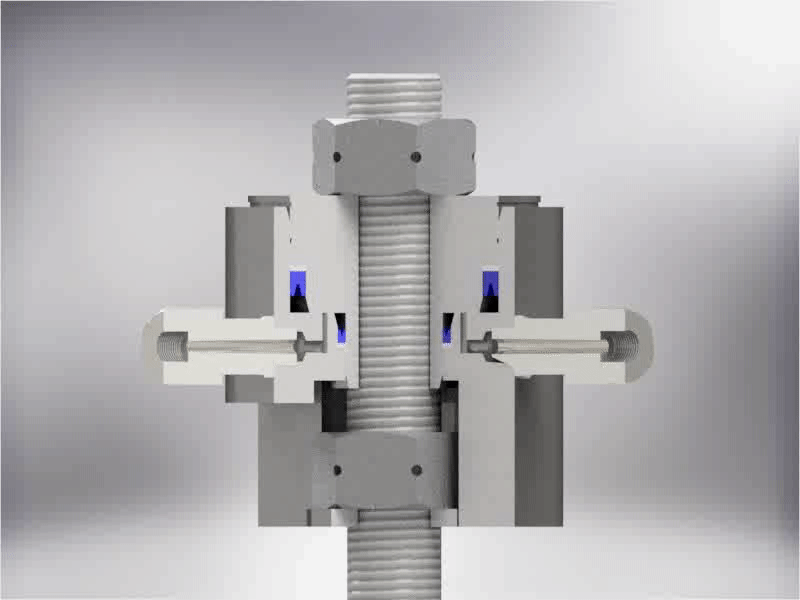 The area of ​​the ring cyl­in­der required for tight­en­ing mul­ti­plied by the hydraul­ic pres­sure plus a safety factor of approx. 10% to 20% cor­res­ponds to the inner area of ​​the device to be sealed mul­ti­plied by the oper­at­ing pres­sure or the test pressure.